Half the joy of golfing comes with the clubs one owns and the sleek bag they all fit into. While the game is a great and classy way to pass away leisure hours, another aspect that brings just as much happiness is owning the appropriate kit and the perfect bag to carry them in.
When one begins their golfing journey, they procure the finest golf clubs that are the best suited to their style and needs, but just as important of a decision is the bag that you acquire to store and carry all your things in. The best golf bag facilitates you with added convenience, and the recent of bags are made of much lighter material that enables you to easily cart around your weight.
Whether you are a new player on the cusp of your golfing career or simply looking to upgrade, here are three of the best and finest golf bags on the market:
#1 Callaway Org 14 Golf Cart Bag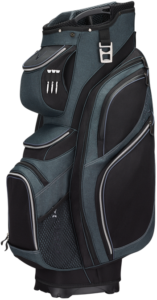 Frst place is the Callaway Golf bag. The company excels with manufacturing and delivering the best in quality and endurance. One can't go wrong with one of these. The Callaway Golf 2017 Org 14 Cart Bag has been devised to offer the user with abundant room to keep valuable clubs while going around the course. 14 Club dividers, hence the name, keeps all the clubs in place in an organized manner and ensures that they are readily available when needed. With a total pocket capacity of 19, the bag is a heaven sent for those that spend many hours on the green.
In case of overcast weather, the bag is equipped with water-proof pockets, a rain hood, and features an integrated umbrella sleeve. Weighing at only 5.8 lbs, with a E-trolley system and molded top handles that help to move it around, the bag makes for easy lifting. Additionally, a pair of insulated cooler pockets are also integrated into the design. All in all, the bag makes for a very comfortable and stylish fit for any golfer.
#2 PING Golf Men's Traverse II Cart Bag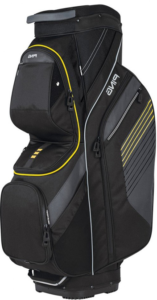 Another impeccable bag has been designed by PING that caters to all of your golfing needs by keeping your equipment safe and secure. Equipped with a 14-way organization system, it prevents your clubs from damage and allows you to pilfer through the bag to get to the clubs. The dividers are full-length and cushioned. With room for 24 golf balls, with additional compartments, the bag has ample storage. A detachable cooler pocket is also provided. With soft padded handles, one can easily maneuver through the green with this lightweight design.
#3 OGIO Golf 2017 Press Cart Bag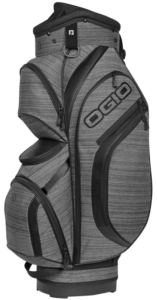 The last bag to make it to the list is the latest OGIO design that is sure to put a spring in your step with its cheerful style. Very reasonable, the bag has eight full-length dividers to keep your clubs in check, it has extra pockets, it's lined with fleece, has a rain hood, and it's designed to carry miscellaneous valuables. With integrated handles and a shoulder strap, it makes it very easy for you to move about.